Thank you for our interest in joining the Pregnancy Care Center Team!
To apply, please email your resume and cover letter to recruitment@gppregnancy.com
We look forward to hearing from you!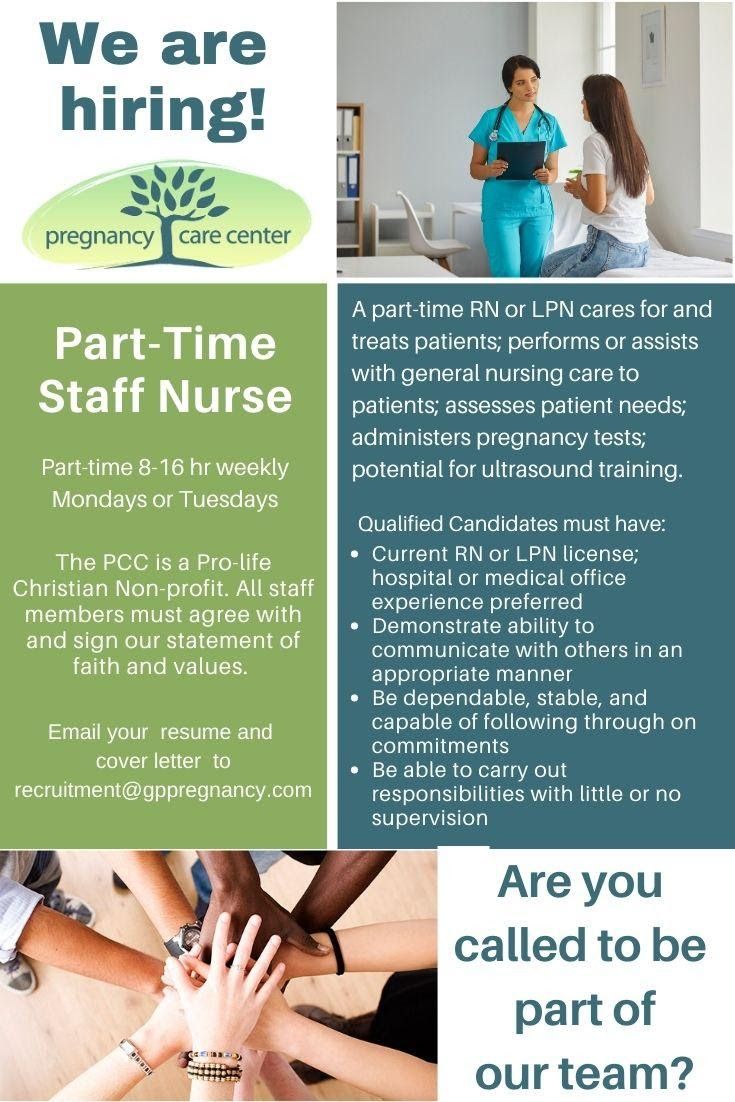 Staff Nurse
Dreams begin with new life, but to understand and obtain the tools and support necessary to successfully carry that pregnancy to term, many need your help. Your expertise as a nurse along with your smile and compassion can provide thousands of women in and around our community peace of mind and help in a time of uncertainty. You'll know you are making a difference in the lives of others and you'll know your work matters.

Pregnancy Care Center of Grants Pass provides medical services, education and resources that give value to human life, while offering hope and restoration. Established in 1988, PCC operates as a trusted, community funded, faith-based, non-profit, accredited medical clinic in southern Oregon. Services are provided free of charge to all, regardless of age, gender, marital status, race, sexual orientation, disability, or religious belief.

At Pregnancy Care Center of Grants Pass you'll have:
Consistent, part-time hours.
PTO and paid holidays.
Work near your home.
Continuing training and certifications available.
Family atmosphere, a strong team that is available to support you.
Team events for employees.
Promotion and career growth opportunities.
If you are interested in applying, please submit both a resume and a cover letter briefly explaining why you would like to work at Pregnancy Care Center and how your experience makes you a good fit for this position.
Objectives of the position:
Cares for and treats patients in the organization, as directed by the Medical Director's Standing Orders and within the scope of practice according to policies and procedures.
Part-time:
8 or 16 hours per week - 8:30am-5pm on Monday and/or Tuesday (preferred)
Qualifications:
Current R.N. or L.P.N. license in good standing with the Oregon Board of Nursing, hospital or medical office experience preferred.
Demonstrate ability to communicate with others in an appropriate manner.
Be a committed Christian who demonstrates a personal relationship with Jesus Christ.
Exhibit strong commitment and dedication to the pro-life position and sexual purity.
Agree with and be willing to uphold the Statement of Values and policies of the center.
Be dependable, stable and capable of following through with little or no supervision.
Maintain confidentiality of all corporate, financial and patient/client information.
Adheres to policies regarding TB testing and maintain current CPR certification.
Responsibilities:
Performs or assists with general nursing care to patients, according to standing orders:

Takes medical history and information, assessing patient needs.
Administers pregnancy tests.
Uses CPR skills when required.
Performs accurate legal & ethical documentation at all times.
May eventually train to perform limited OB ultrasound based on AHWONN guidelines upon training. completion, preparing ultrasound reports for review by Nurse Manager and Medical Director.

Makes referrals/recommendations to patient for ongoing prenatal care as required.
Keeps charts up-to-date by completing charting at the end of the day, using appropriate medical terminology.
Cleans intake room and any instruments and equipment, and maintains stock of supplies.
Attends regular and special staff meetings. If unavailable to attend meeting, reads meeting minutes in an attempt to stay current with changes/training in the organization.
Educates patients in appropriate health care within the nursing scope of practice.
Adheres to the standard of care within the nursing scope of practice.
Practice OSHA safety standards and attend departmental safety meetings.
Maintains own clinical skills by participating in continuing education
Maintains knowledge to educate patients regarding abortion procedures/risks; health maintenance during pregnancy; STI/STD risks, need for testing, and treatment.
Performs related work as required.
Thank you for your interest in serving women in our community and for your interest in our company!