Thank you for our interest in joining the Pregnancy Care Center Team!
To apply, please email your resume and cover letter to recruitment@gppregnancy.com
We look forward to hearing from you!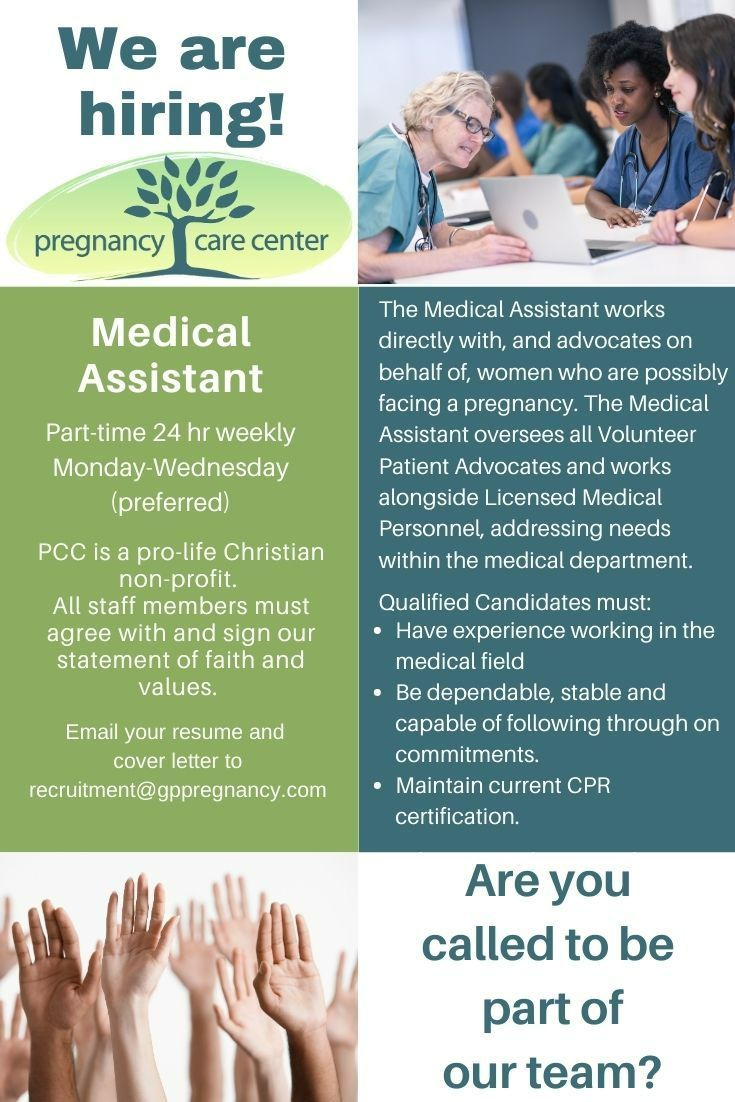 Medical Assistant (PT)

Dreams begin with new life, but to understand and obtain the tools and support necessary to successfully carry that pregnancy to term, many need your help. Your experience assisting in a medical facility along with your smile and compassion can provide thousands of women in and around our community peace of mind and help in a time of uncertainty. You'll know you are making a difference in the lives of others and you'll know your work matters.

Pregnancy Care Center of Grants Pass provides medical services, education and resources that give value to human life, while offering hope and restoration. Established in 1988, the PCC operates as a trusted, community funded, faith-based, non-profit, accredited medical clinic in southern Oregon. Services are provided free of charge to all, regardless of age, gender, marital status, race, sexual orientation, disability, or religious belief.

Please submit both a resume and brief statement (cover letter) sharing why you would like to work in this position at Pregnancy Care Center.

At Pregnancy Care Center of Grants Pass you'll have:
Reliable, 24 hour per week schedule
PTO and paid holidays
Work near your home
Continuing training and certifications available
Family atmosphere, a strong team that is available to support you
Team events for employees
Promotion and career growth opportunities
Objectives of the position
: Works directly with, and advocates on behalf of, women (and men) who are sexually active and possibly facing a pregnancy. The Medical Assistant oversees all Volunteer Patient Advocates and works alongside Licensed Medical Personnel, while also addressing weekly needs within the medical department as directed by the Nurse Manager.
Part-time 24 hours/week (8:30am-5:00pm, preferably Mondays-Wednesdays, but other days could work as well)
Qualifications
:
Be a committed Christian who demonstrates a personal relationship with Jesus Christ as Savior and Lord.
Exhibit strong commitment and dedication to the pro-life position and sexual purity.
Agree with, sign and be willing to uphold the Statement of Values, and policies of the center.
Be dependable, stable and capable of following through on commitments.
Maintain confidentiality of all corporate, financial and patient/client information.
Adheres to policies regarding TB testing and Hepatitis B vaccination.
Be CPR certified.
Responsibilities:
Complete patient care and other activities
as assigned by the Nurse Manager
to help ensure efficient operations of PCC's medical department. These tasks may include, but are not limited to, the following:
Patient Care:
Provide crisis intervention support for each patient in an atmosphere of warmth and compassion through listening and other helping skills.
Administer urine pregnancy tests (UPTs), as needed.
Provide accurate information on parenting, abortion and adoption, working in conjunction with Licensed Medical Personnel.
Follow up with patients and carry out communications via phone and email.
Offer support and recommendations appropriate to a patient's situation, being aware of community resources.
Report to Nurse Manager any patient issue that is out of the ordinary.
Use CPR skills when needed.
Assist Licensed Medical Personnel as necessary.
Witness during abdominal and trans-vaginal ultrasound procedures.
Training
Complete training protocol and participate in annual training and continuing education/in-service sessions.
Attend regular and special staff meetings.
Practice OSHA safety standards and attend departmental safety meetings
Management
Supervise and assign tasks to Volunteer Patient Advocates and any non-staff volunteers within the medical department.
Assist with onboarding and training Volunteer Patient Advocates and any non-staff volunteers within the medical department.
Conduct evaluations for Volunteer Patient Advocates with input from the Nurse Manager.
Other
Follow through with end-of-day procedures for preparation for next day patients.
Maintain all patient records as indicated in center policies and guidelines, following appropriate charting methods after meeting with patient.
Clean intake room and any instruments and equipment, and maintain stock of supplies.
Work together with Licensed Medical Personnel in the cleaning of the ultrasound room, as required and in line with our policies and procedures.
Perform related work as required.
Thank you for your interest in serving women in our community and for your interest in our organization!