Thank you for our interest in joining the Pregnancy Care Center Team!
To apply, please email your resume and cover letter to recruitment@gppregnancy.com
We look forward to hearing from you!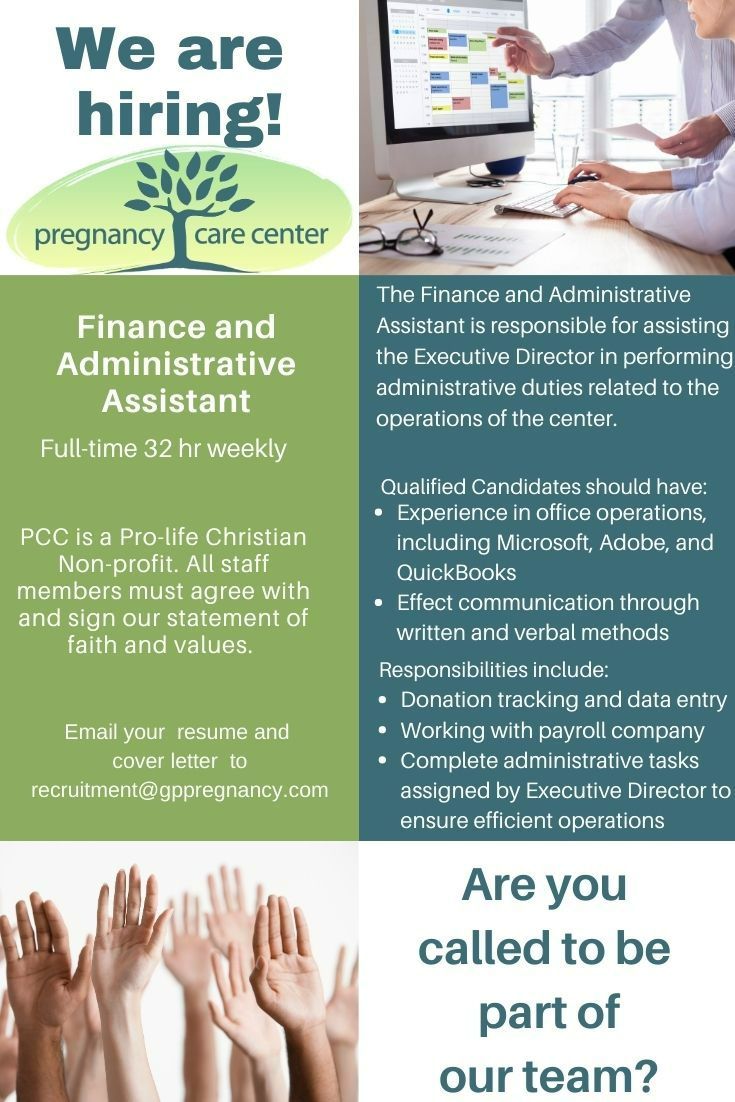 Finance and Administrative Assistant (FT)

Life is better when people bring their talents and gifts together to serve others. Your expertise in finance, organization, and administration, along with your enthusiasm to serve, will equip the ministry for further and more excellent service to our patients, clients, donors, staff, and community.

Pregnancy Care Center of Grants Pass provides medical services, education, and resources that give value to human life, while offering hope and restoration. Established in 1988, PCC operates as a trusted, community funded, faith-based, non-profit, accredited medical clinic in southern Oregon. Services are provided free of charge to all, regardless of age, gender, marital status, race, sexual orientation, disability, or religious belief.

If you are interested in applying, please submit both a resume and a cover letter briefly explaining why you would like to work at Pregnancy Care Center and how your experience makes you a good fit for this position.

At the Pregnancy Care Center of Grants Pass you'll have:
32-hour, consistent weekday schedule
Competitive wages
PTO and paid holidays
Wellness benefit
Work near your home
Continued training and professional development
Family atmosphere, a strong team that supports one another
Team events for employees
Promotion and career growth opportunities
Objectives of the position
: The Finance Coordinator/Administrative Assistant is responsible for assisting the Executive Director in performing administrative duties related to the operations of Pregnancy Care Center. Major duties involve helping to ensure efficient office operations, including tracking donations, establishing internal controls, and maintaining the finances of the organization.
Reports to
: Executive Director
Supervises
: None
Qualifications
:
Be a committed Christian who demonstrates a personal relationship with Jesus Christ as Savior
Exhibit strong commitment and dedication to the pro-life position and sexual purity
Agree with policies of the organization and be willing to sign the Statement of Values
Have experience in office operations, with various computer programs including Microsoft Office (Word, Excel, and PowerPoint), Google web browser and applications (Gmail and calendar), Adobe Acrobat, and QuickBooks
Be able to effectively communicate through written/typed and verbal communications
Familiarity with PCs and printers/copiers
Exhibit excellent organizational skills and typing/ten-key ability
Be able to carry out assigned responsibilities with little or no supervision
Maintain confidentiality of all corporate, financial, and patient/client information
Donor Responsibilities include:
Tracking and data entry of donations, maintaining strict confidentiality of donor information
Maintenance of automatic/EFT giving program, working to balance with finance software monthly
Assists with maintenance of monthly pledge program
Generation of donation receipts and mailing of same
Maintaining quality assurance within the accounting program, working with department heads and Executive Director to ensure data entry is correctly applied to budgeted categories
Creation and maintenance of other administrative files, filing items as needed
Financial Responsibilities include:
Enter receivables and payables, print and mail checks
Process credit, debit, and ACH donations
Process cash and checks in dual custody
Make deposits as necessary
Work with payroll processing company to run and process payroll and send tax and other reports
Interface with electronic giving program
Run financial and expense reports as directed by the Board and the Executive Director
Reconcile bank accounts
Provide monthly and other expense reports to program/department supervisors
File receipts and paperwork
Track expense requests/reimbursement
Assist with fundraising activities
Administrative Responsibilities include:
Complete administrative and other activities as assigned by the Executive Director to help ensure efficient operations of PCC. These tasks may include, but are not limited to, the following:
Draft communications and other documents for the Executive
Prepare documents for board and other meetings
Conduct phone calls to supporters, applicants, vendors, etc.
Conduct research and order/pick up items as needed
Create and update spreadsheets and PowerPoint slideshows
Help coordinate staff events
Operate as a back-up receptionist when assigned
Attend meetings inside and outside of the office to support Executive Director as needed
Assist with tallying evaluations results and researching, compiling, and summarizing internal and external statistics
Schedule travel, lodging, and accommodation arrangements as needed
Assist with non-patient care tasks within the medical department, which may include: Compiling booklets; Organizing and filing documentation; Creating and revising forms; Inventorying supplies