Thank you for our interest in joining the Pregnancy Care Center Team!
To apply, please email your resume and cover letter to recruitment@gppregnancy.com
We look forward to hearing from you!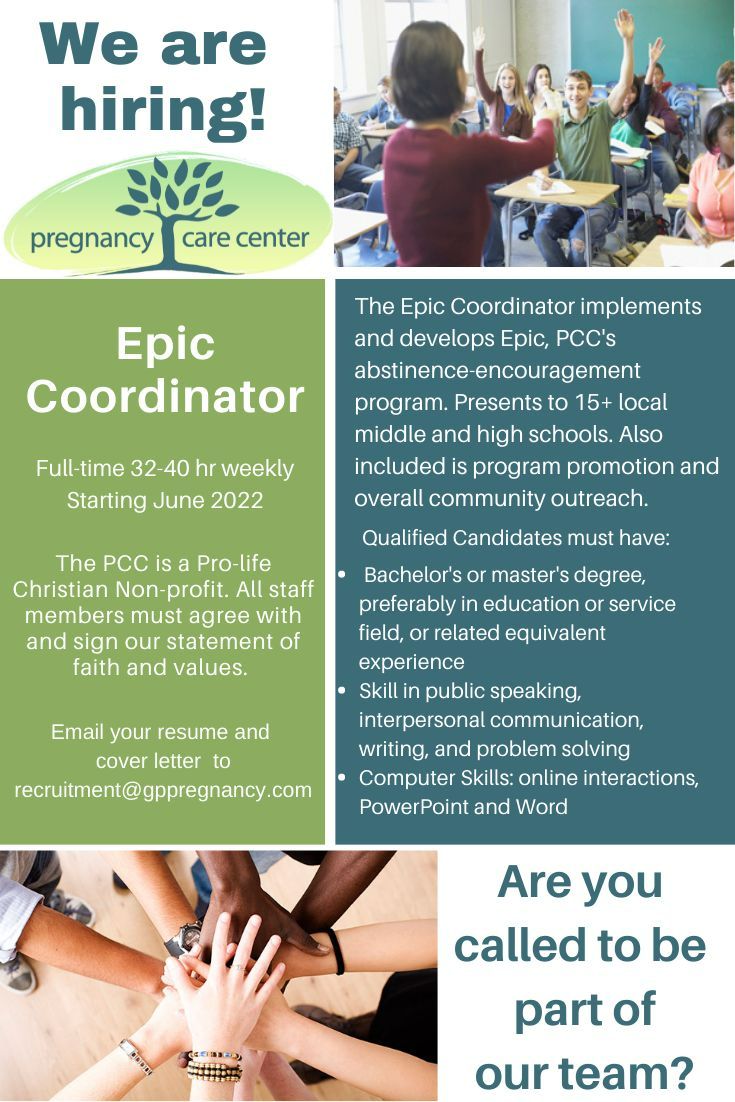 Epic Coordinator (sexual health presenter)

Life is made up of decisions and choices. For today's students, there is so much influencing their decisions, especially choices related to sex and relationships. Your passion for youth and ability to engage and encourage them can provide thousands of students in our community with information, tools, and support to make healthy decisions about sex, relationships, and abstinence. You will know your work truly matters as you make a positive difference in the lives of thousands of students annually.


At Pregnancy Care Center of Grants Pass you will have:
32 hours per week: Monday through Thursday, 8-hours per day
Salary range: $38,211.00 - $40,208.00 per year
PTO and paid holidays
Wellness benefit
Work near your home
Continuing training and professional development
Family atmosphere, a strong team that supports one another
Team events for employees
Promotion and career growth opportunities
Pregnancy Care Center of Grants Pass provides medical services, education and resources that give value to human life, while offering hope and restoration. Established in 1988, the PCC operates as a trusted, community funded, Christian, non-profit accredited medical clinic in Southern Oregon. Services are provided free of charge to all, regardless of age, gender, marital status, race, sexual orientation, disability, or religious belief.

Objectives of the position: The Epic Coordinator is responsible for developing and presenting Epic, the abstinence-encouragement program of Pregnancy Care Center, to middle and high school students in both public and private schools and other venues in Josephine and Jackson counties. Responsibilities include connecting and providing support to other centers licensing the Epic program, and overall promotion of Epic including community outreach.

Reports to: Program Director

Supervises: Epic volunteers, when applicable

Qualifications:
Be a committed Christian who demonstrates a personal relationship with Jesus Christ as Lord and Savior
Exhibit strong commitment and dedication to the pro-life position and sexual purity
Agree with and be willing to sign the Statement of Values
Follow the policies of the organization
Have a bachelor's degree or higher, preferably in education, or have equivalent related experience
Have strong presentation skills and an ability to effectively connect with a teenage audience
Be a creative and skilled presentation developer
Exhibit skill in interpersonal communication, writing, and problem solving
Be able to carry out responsibilities with little or no supervision
Be willing to regularly travel within Josephine and Jackson counties utilizing personal vehicle while keeping accurate records of miles driven for insurance and reimbursement purposes
Responsibilities:
Present Epic program in schools, youth groups, and other venues in accordance with Oregon education expectations of not using scare-tactics or shame-based methods
Develop program including creating and updating slideshows, presentation guides, handouts, and other presentation tools
Assist with the development and revision of program policies and procedures necessary for consistent operation of the abstinence-encouragement program
Maintain communication with Executive Director on updates for all components and activities related to the Epic program as needed for support and direction
Maintain contact with school administrators and teachers regarding Epic including scheduling presentations
Oversee all statistics and pertinent paperwork for each presentation
Respond to communications from centers licensing or interested in licensing Epic program
Facilitate training for presenters, observe practices and school presentations, and create training videos as needed
Assist in discovering outreach opportunities for the purpose of reaching people with Epic, either through direct presentations or through licensing to other centers
Work with Development Director and Executive Director to promote abstinence-encouragement programs to the community
Actively track expenditures while keeping within program budget
Attend staff and other applicable meetings. If unavailable to attend a meeting, read meeting minutes where applicable