Thank you for our interest in joining the Pregnancy Care Center Team!
To apply, please email your resume and cover letter to recruitment@gppregnancy.com
We look forward to hearing from you!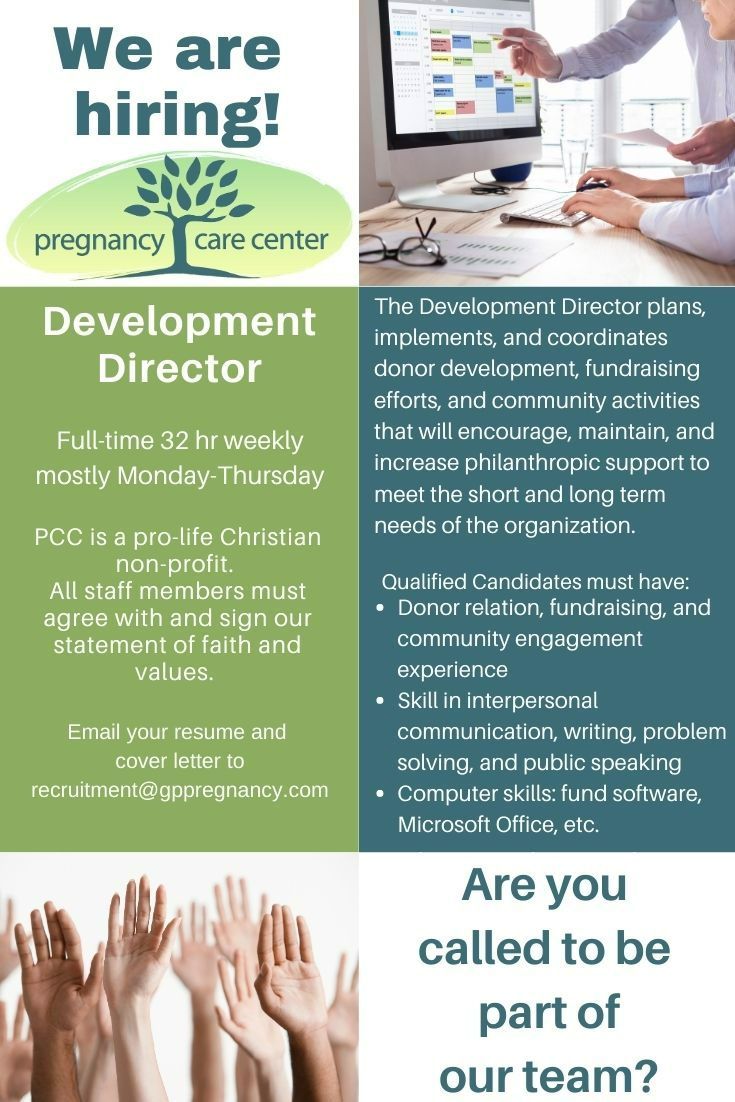 Development Director (FT)
Life is better when people come together to serve, to give. Your expertise in fundraising, supporter development, event coordination, and public relations, along with your communication and enthusiasm will connect our community members with opportunities to serve, give, and support families in our community. Your work will help quality services and programs to continue!

Pregnancy Care Center of Grants Pass (PCC) provides medical services, education and resources that give value to human life while offering hope and restoration. Established in 1988, PCC operates as a trusted, community-funded, faith-based, non-profit accredited medical center in Southern Oregon. Services are provided free of charge to all, regardless of age, gender, marital status, race, sexual orientation, disability, or religious belief.

If you are interested in applying, please submit both a resume and a cover letter briefly explaining why you would like to work at Pregnancy Care Center and how your experience makes you a good fit for this position.

At the Pregnancy Care Center of Grants Pass you'll have:
32-hour per week schedule (most hours worked Monday-Thursday)
Competitive salary
PTO and paid holidays
Wellness benefit
Work near your home
Continued training and professional development
Family atmosphere, a strong team that supports one another
Team events for employees
Promotion and career growth opportunities
Objectives of the position
: The Development Director, in conjunction with the Executive Director and other staff, plans, implements, and coordinates donor development, fundraising efforts, and community activities that will encourage, maintain, and increase philanthropic support to meet the short and long term needs of the organization.
Reports to:
Executive Director
Supervises:
Development Coordinator, Development volunteers (when applicable)
Qualifications:
Be a committed Christian who demonstrates a personal relationship with Jesus Christ as Savior and Lord.
Exhibit strong commitment and dedication to the pro-life position and sexual purity.
Agree with and be willing to uphold the Statement of Faith, Core Values, and policies of the center.
Bachelor's degree; or 1-2 years related experience/training; or equivalent combination of education/experience.
Be dependable, stable and capable of following through on commitments.
Be able to develop and implement strategic plans and goals for PCC.
Exhibit strong skills in interpersonal communication, public speaking, writing, and effective media relations.
Computer skills, including fund development software; internet software; spreadsheet and word processing software
Have experience in marketing, fundraising and/or public relations/development.
Be able to carry out responsibilities with little or no supervision.
Maintain confidentiality of all corporate, financial and patient/client information.
Responsibilities:
Administration:
Assist in the preparation of a strategic plan, with short-and long-range goals to meet organizational funding objectives.
Prepare, administer and track department budget along with overseeing other Development staff in administering and tracking advertising budget.
Monitor all donor information and activity and compile and provide reports.
Fundraising and Donor Development:
Along with the Executive Director and Development Coordinator, design, implement, coordinate and evaluate programs in the following areas of fund development: small, large, and one-on-one events, major gifts, monthly pledge program, electronic funds giving, tours, all mailings and printed solicitations, emails, community awareness, public relations, church relations, special campaigns, and other suggested fund development activities.
Along with the Executive Director, devise and implement specific strategies to develop relationships with individual donors, major and general donors and community churches; cultivating these relationships to raise needed funds for a specific project, general support, and to expand the ministry's donor base.
With involvement from Executive Director, coordinate communications with donors who gave monetary gifts to ensure prompt and proper appreciation is shown to all donors.
Events:
Communicate, promote, and manage all donor relations with regard to the annual fundraising Gala.
Work with other Development staff and general staff to facilitate events.
Oversight of Advertising/Grants/Volunteers:
Work with and oversee other Development staff to ensure advertising campaigns, emails, direct mail campaigns, special campaigns and events are intentionally complimentary of each other.
Work with and oversee other Development staff, when necessary, to ensure grant proposals to existing foundations and new foundations are continually being submitted and sought.
Public Relations:
Along with the Executive Director, develop and maintain strong working relationships with key contacts within the community (businesses, civic groups, churches and philanthropic prospects); identify potential fundraising opportunities within these groups and recommend a course of action for entering these markets.
Coordinate efforts to ensure that an established list of community locations, and new locations as opportunities arise, have updated/current versions of appropriate printed materials, such as patient brochures and business cards.