Pregnancy Care Center Blog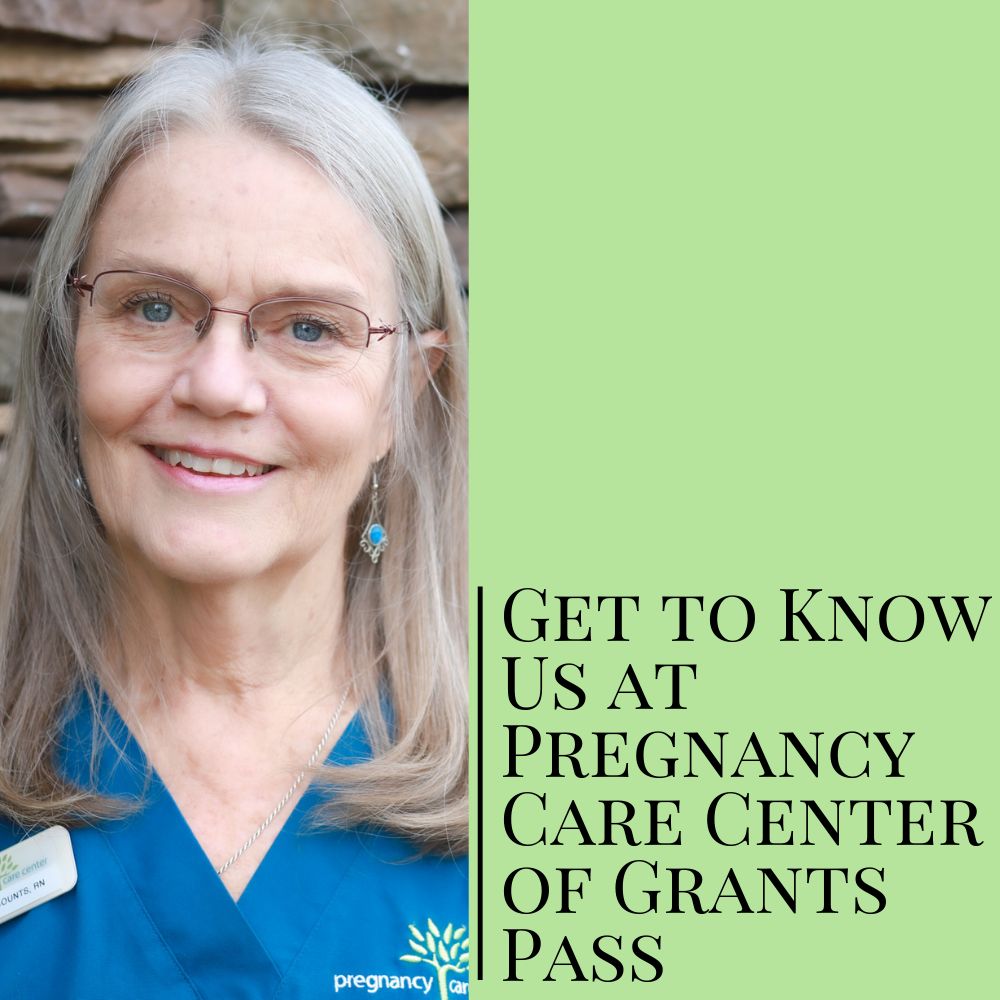 Get to Know Us at Pregnancy Care Center of Grants Pass
by PREGNANCY CARE CENTER on
February 10, 2021
Every day at Pregnancy Care Center of Grants Pass, we provide help and support to women and couples in the midst of pregnancy decisions. Our compassionate and understanding staff can offer you perspective, guidance, and resources. All our services are free of charge and confidential.
If you are currently experiencing an unplanned pregnancy, you may feel like there is no one to turn to for help. In this blog, we want to introduce you to one of our registered nurses, Bonnie Counts, to help you learn more about the kind of person you will meet at Pregnancy Care Center (PCC). Bonnie has answered a few questions to help you get to know more about what our center does and why we offer these free services. Bonnie loves what she does, and she and the rest of the caring staff at PCC are people who you can trust and talk to if you find yourself in an unexpected pregnancy and need help.
Why did you choose to get involved with a pregnancy center?
I felt a strong calling to serve this community by becoming involved with the work here at PCC. I deeply believe in the vision of PCC that states, "Every life is seen as important and cherished."
Why is your center's mission so important to you?
Our mission is, "Providing hope in the midst of pregnancy and sexual health decisions." I believe that every life is a gift. Each person is significant and precious to those who are involved with PCC and it's important to me to help give hope and support to those facing such big decisions.
What is your hope for anyone who comes into your center?
We are here to serve/help our patients in a multitude of ways with many resources that are available to them. My hope is that they will feel supported in whatever pregnancy or sexual health decisions they are facing in a loving, non-judgmental manner. I also hope that anyone who comes into PCC will feel heard and valued.
What is one thing you would say to anyone who is considering an abortion and/or is struggling from a past abortion?
One thing I would say to a person who is considering an abortion is this... Please allow us to help you explore all the options that are available to you. Let us share with you all the beneficial resources in this community that are here to help/serve you in this challenging time of your life.
Let us give you a free ultrasound and confidential consultation to assist you as you make this very difficult decision.
To the woman who is struggling with a past abortion, I would say, please consider coming to our Journey classes. These classes are led by women who have experienced an abortion and they will help you work through the thoughts and emotions that are tugging at your heart and mind.
What is something you would like to share with your community?
We are here in this community to serve and provide help for all people, without cost, in their time of a planned or unplanned pregnancy. We also have a very helpful program called Pathways for moms and dads that will equip them with knowledge for their pregnancy and help them develop parenting skills.
Many people struggle with a past abortion. We serve them by offering Journey classes that help men and women walk together toward hope and healing in a supportive, understanding environment.
How can those in your community help with your center's work?
We want the people of this community to know we are here for them. We are a safe and confidential place with caring staff that want to help others in difficult times. So, we would ask people to share with their families, friends, and neighbors about us. We are also very thankful for any donations from those who are led to give. However, we stress that our services are totally free of charge to everyone.
Volunteers are valuable and we have opportunities for those who want to give their time. They can also contribute to PCC's Baby Boutique by donating diapers, wipes, new clothes, new toys, and other items that go to clients.
How has COVID-19 affected your day to day operations?
I was not directly involved with PCC on a day to day basis before this virus, but I have worked in medical facilities for 30+ years. I can say that PCC is compliant with the CDC guidelines and we are extremely careful to protect our patients and our staff. We are meticulous in our cleaning and sanitation practices daily and between appointments. We take every precaution we can to maintain a safe environment for all.
Contact Us Today
At Pregnancy Care Center of Grants Pass, ALL our services are both confidential and free of charge. Give us a call at (541) 479-6264 to schedule your free appointment or schedule an appointment online. If you need someone to talk to as you face difficult or unknown pregnancy decisions, our compassionate staff at PCC are ready to listen and help without passing any judgment. We can also connect you to our free Pathways parenting classes or our Journey classes if you are struggling with a past abortion. We are here to provide a safe place for you.

The content on this page has been reviewed and approved by our registered nurse Bonnie Counts.


back